Fire Alarms
Installation, Servicing & Maintenance
At Vulcan Fire, our experienced and highly skilled engineers will install and maintain your fire alarm system to current British safety standards, ensuring you are operating fully within the law and are kept safe from unnecessary risk.
Under Articles 13 and 17 of the Fire Safety Order the person responsible for a building must ensure an adequate fire alarm system has been installed, maintained, and is in full working order.
At Vulcan Fire, our experienced and highly skilled engineers will install and maintain your fire alarm system to current British safety standards, ensuring you are operating fully within the law and are kept safe from unnecessary risk.
All fire alarm projects start with a Fire Risk Assessment involving a comprehensive assessment of all sites and buildings. We then design, install or repair equipment to ensure you comply with Fire Regulations. Following this an ongoing maintenance plan is developed to suit the system and the environment in which it is installed.
Whether you require a Fire Alarm Installation or Maintenance contract our experienced team of fire alarm engineers can cater for your needs. As a company, Vulcan Fire enjoys a great reputation amongst peers and clients alike. We only install 'open protocol' fire systems so that you can choose who maintains your system, unlike 'closed protocol' systems that tie you in for the life of the system with increased costs associated with preventative maintenance call outs.
Fire Alarm Systems
Conventional panels have been around ever since electronics became small enough to make them viable. Conventional panels are used less frequently in large buildings than in the past, but are not uncommon on smaller projects such as small schools, stores, restaurants, and apartments.
A conventional Fire Alarm Control Panel employs one or more circuits, connected to detectors wired in parallel. These sensors are devised to dramatically decrease the circuit resistance when the environmental influence on any sensor exceeds a predetermined threshold. In a conventional fire alarm system, the information density is limited to the number of such circuits used.
To facilitate location and control of fire within a building, the structure is subdivided into definite areas or zones. A zone boundaries on a floor plan (Zone map) using textual descriptions, illuminated icons, illuminated sections, or illuminated points on the map corresponding to Initiating Circuits connected to the Fire Alarm Control Panel will need to be displayed next to the panel fire alarms servicing & maintenance.
Addressable panels are usually more advanced than their conventional counterparts, with greater information capacity and control flexibility. Addressable fire alarm panels were introduced by many manufacturers during the microcontroller boom in the mid 1980s.
Vulcan Fire only install open protocol addressable systems, where you are not tied to any one installation or service manufacturer for the life time of the system, called closed protocol or newly named managed protocol.
When did you last call the fire brigade upon hearing a fire alarm?
Just because you have a fire alarm system installed, it doesn't mean you're fully protected. Redcare Fire alarm signalling is connected to an Alarm Receiving Centre (ARC) via a BT phone line. If your alarm is triggered - through accident or arson - the ARC is alerted within seconds and can summon the emergency services as required.
How protected do you want to be?
Different types of alarm systems offer different levels of protection:
'Bells only' fire alarms - no more than an alarm bell which will ring to warn occupants to evacuate. Who will call the fire brigade when the building is empty?
Digital communicator - is where your alarm system is connected to an alarm receiving centre via a dedicated phone line. When an alarm is triggered, the alarm receiving centre receives notification and calls the relevant emergency service. A dedicated phone line is usually needed, meaning additional annual rental costs. Should this line be cut or get damaged it may not be immediately detected.
Redcare uses intelligent technology to actively check that your phone line is working and to detect any problems. Line cuts or faults are signalled to the alarm receiving centre within seconds. This tried and tested technology is provided by Redcare and was pioneered by BT.
How BT Redcare Works
Redcare Fire monitors property and premises every second of the day by actively checking that your phone line is working. You can choose from our two products to monitor your fire alarm:
Redcare Classic - the phone line is checked continuously and, if there are any interruptions, a warning signal will be delivered to the alarm receiving centre. This means that your alarm signalling can never be compromised without the knowledge of the alarm receiving centre.
Redcare GSM dual signalling paths - this uses two alarm signalling paths: the telephone line and a radio network. If one of these paths is attacked, or fails, the other continues to monitor your alarm regardless of which one fails first. Redcare Fire doesn't require a dedicated phone line and will work on your existing BT phone line. You therefore save the cost of installing and renting an additional line, as well as incurring any additional call charges.
Redcare is a market-leading specialist in secure, monitored communications services, which help customers to benefit from automated, intelligent decisions and responses.
With over 25 years of experience, Redcare is recognised as having a world leading platform for connecting, controlling and managing data, serving some of the largest organisations in the world.
Call Vulcan Fire on 0845 017 8184 for more information regarding fire alarm panel monitoring or contact us online and we will call you back.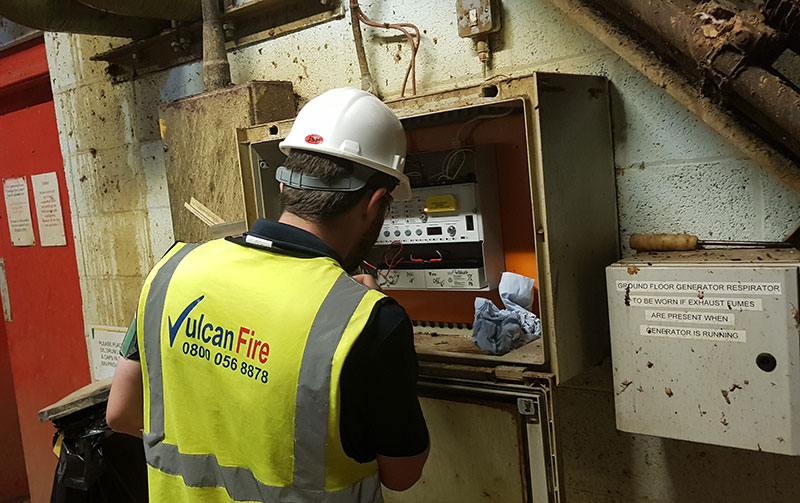 If you have any questions regarding our services, please contact us or call 0845 017 8184